2nd Johann Lukas Schönlein Lecture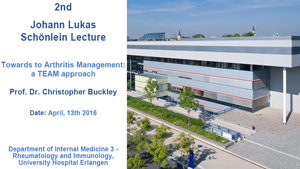 The Department of Internal Medicine 3 of the Medical Faculty of the Friedrich-Alexander University Erlangen-Nuremberg is addressed to high-standard research and education in field of Rheumatology and Immunology. The Johann Lukas Schönlein Lecture is dedicated to reward scientific achievements in the pathophysiology, diagnosis and treatment of inflammatory diseases and to foster scientific exchange and discussions.
2nd Johann Lukas Schönlein Lecture
Date: Wednesday, April 13th, 2016              Time: 5 pm
Location: Neues Hörsaal, Kleiner Hörsaal, Ulmenweg 18, 91054 Erlangen
Towards Early Arthritis Management : a TEAM approach

Christopher D Buckley, Rheumatology Research Group, Institute of Inflammation and Ageing (IIA), University of Birmingham, Queen Elizabeth Hospital, Birmingham, B15 2WB
Rheumatoid arthritis (RA) is a heterogeneous chronic immune mediated inflammatory disease associated with significant morbidity and reduced life expectancy. The disease is common and will become more so as the population ages. An understanding of the mechanisms operating both systemically and in the inflamed joint in the established phase of disease, has led to dramatic advances utilizing biologic therapies that have significantly improved outcomes for patients. These pioneering treatments have provided the rationale for equivalent interventions in other chronic inflammatory diseases e.g. inflammatory bowel disease and psoriasis. However, we remain unable to cure RA and many patients still develop progressive joint and extra-articular damage despite state-of-the-art therapy. An ideal intervention in a chronic inflammatory disease such as RA would be a preventive one. In order to develop preventive strategies and therapies two key step-changes need to occur:
Biomarkers need to be identified that can be used to predict an individual's risk of developing RA.
Modifiable disease mechanisms need to be identified and characterized in these early pre-RA phases of disease.
Work over the last 20 years, to define the phases and processes in the transition from health to established disease, places RA in a unique position amongst all immune mediated inflammatory diseases. Very well validated genetic, epigenetic and environmental factors have now been identified that interact with immunological and biochemical processes to drive disease pathology.
Therefore the key aim of the Euro-TEAM project is to identify biomarkers and disease mechanisms operating during the phases of disease leading up to the development of RA and translate these findings into improved and user appropriate / acceptable diagnostic kits and strategies for the benefit of the EU economy.
The entrance is free of charge.